August 7, 2022
·


0 comments
By Shelley Pallis.
Festooned with prizes, including the judges' award at last year's Scotland Loves Anime and the Japan Academy Award for Excellence in Animation, Ayumu Watanabe's Fortune Favors Lady Nikuko now reaches British cinemas.
As her name inadvertently suggests, Nikuko is a creature of fleshy delights – passionate, enthusiastic, bubbly and obsessed with foods. She works in a small-town harbour restaurant and lives on a houseboat with her 11-year-old daughter Kikuko. She proudly boasts that "being ordinary is the best of all" and keeps up a constant performance of a happy-go-lucky character, much to her long-suffering daughter's frustration. Because Nikuko's big personality obscures a relentless, recurring ability to choose the wrong kind of man, the mother-daughter parent are nomads on the Japanese coast, ever in search of a fresh new start, and a run of better luck.
Ayumu Watanabe, who some may remember as the director of the polarising 2019 arthouse epic Children of the Sea, returns to watery matters here with a slice-of-life chronicle of a single-parent family in a Japanese harbour town. The titular Nikuko is somewhat sidelined in the film that bears her name, a figure of fun and occasional melancholy, arguably less of a parent to her daughter than a surrogate child, in need of pastoral care, pep-talks and pick-me ups. Such a depiction is signalled in the original Japanese title "Nikuko-chan of the Harbour Town," which assigns a thirty-something mother with an honorific usually reserved for children.
The production reunites a number of other names from Children of the Sea, including designer Kenichi Konishi and the production house Studio 4°C. but it also throws in some real heavy-weights behind the scenes, including multiple award-winning actress Shinobu Otake voicing the title role. Her ex-husband and frequent collaborator, the megastar comedian Sanma Akashiya, is credited prominently as a producer, while his managers, the influential Osaka talent agency Yoshimoto Kogyo, are listed as one of the movie's backers. Meanwhile, the voice of Kikuko is provided by Japanese media royalty: Cocomi Kimura, daughter of celebrity power-couple Takuya Kimura and Shizuka Kudo.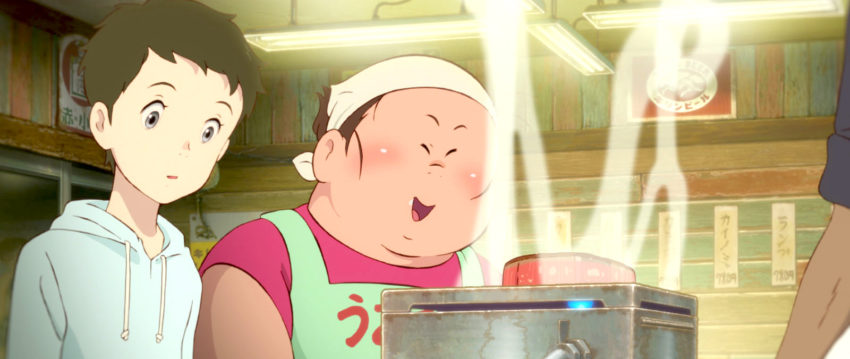 The story's original form was as a book by Kanako Nishi, a novelist with a colourful background. Born in Teheran, she spent her early years in Cairo before returning to her parents' native Japan, where she enthusiastically embraced the culture and lifestyle of her adopted hometown, Osaka. Yes, that's right, after years of Osaka being nothing but a punchline in anime, suddenly we see two Osaka-focussed anime movies at once, with the distinctive accent also appearing in Josee, the Tiger and the Fish. But Nikuko isn't an Osaka movie like Josee, it's a movie about an Osaka fish out of water, inspired by a trip the author made in 2011 to the picturesque northern Japanese seaside town of Ishinomaki. Drawing on the images of harbour life and a bustling port, the novelist was prompted by the immense damage done to the region in the 3.11 earthquake and tsunami to re-imagine it, or a town like it, in its pre-disaster heyday.
After selling a respectable 350,000 copies, the novel was adapted in 2021 into web comic form by the manga artist Sugisaku, although the dating of its release suggests that the comic has spun off from the film, rather than vice versa. Watanabe's anime adaptation, filtered through a script by the primarily live-action scenarist Satomi Oshima, repeats the original's episodic, slice-of-life format, as Nikuko is steered away from poor decisions by her long-suffering daughter. But the film really belongs to the young Kikuko, whose pre-teen struggles with forming friendships are accorded with the respect and weight usually reserved for high drama. She is also, notably, an unreliable narrator, a fantasist who imagines that she can understand the thoughts of the local pets and wildlife, and whose worldview is hence permanently questionable. Is her mother really the bumbling sad-case that Kikuko imagines, or are we perhaps only seeing one side of the story – an exasperated, pessimistic account of a single mother struggling to make ends meet for the daughter she adores? There are elements, here, of an acclaimed but largely forgotten Osaka anime classic, Isao Takahata's Chie the Brat (1981), which similarly framed a struggling parent through the eyes of a child who didn't have all the facts.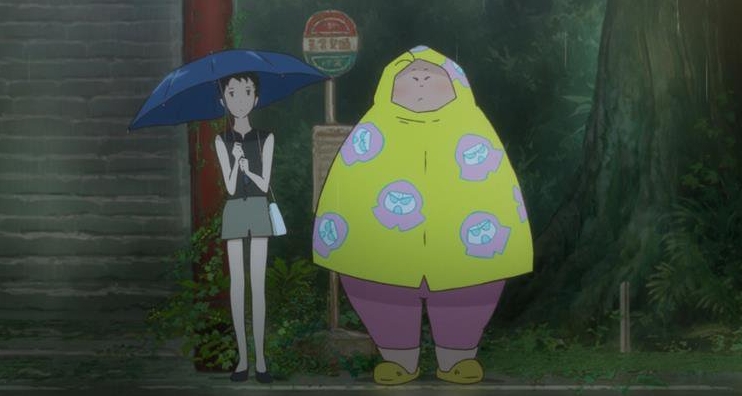 Watanabe, perhaps has other ideas, most obviously with his playful re-enactment of an iconic scene from Hayao Miyazaki's My Neighbour Totoro, in which a different rotund, other-worldly creature waits at a rainy bus stop. Pointedly, Watanabe's shot recreates the scene not from the movie of Totoro, but from the film's pre-production art and subsequent poster, for which Miyazaki famously insisted on keeping to a two-shot, in homage to a critical, life-changing moment in his own career. Here, Watanabe revisits the iconic image with a sardonic touch – Kikuko is not waiting at the bus stop with a magical forest spirit, but with her grumpy mother, clad in a Dayglo mackintosh and her tatty slippers. The choice of colour and expression perfectly captures the belief that so many children inevitably acquire as they face their teens: that their parents are cringe-worthy embarrassments.
Fortune Favors Lady Nikuko is loaded with subtle cues about this, starting with the character's name, which is a Googlewhack. Nobody in Japan is really called "Meat-Child", and an online search for the name immediately brings up only this anime and the novel that inspired it. The similarity of the two leading ladies' names may even not be a coincidence, but a gentle suggestion that Nikuko is a punning nickname, acquired by the mother in reference to her obese form (a subject of occasional unwoke humour in the film), claimed and owned by a woman too proud to accept it as an insult. The film's Twitter feed, however, instead uses the term "29"-chan, which would be pronounced "ni-ku."
Both the anime and the novel zero in on an issue that neither of the characters have initially appreciated – that they have somehow found an odd equilibrium in their lives, and despite being very different people, each needs the other's support in ways they do not necessarily recognise. It makes for a fine film about a subject that itself is often sidelined – how family and friends can often bring out the best in each other.
Fortune Favors Lady Nikuko is screening in UK cinemas on 10th August. https://nikukofilm.co.uk/.